In an era defined by smartphones and digital innovation, the quest for financial freedom has taken a new and exciting turn. Gone are the days when earning extra money meant toiling long hours at a second job or relying solely on your nine-to-five grind. Today, the world of personal finance has been revolutionized by a plethora of money-making apps that allow you to bolster your income from the palm of your hand.
Whether you're looking to pay off debt, save for a dream vacation, or simply improve your financial situation, these money-making apps have opened up a world of opportunities for individuals from all walks of life. The beauty of these apps lies in their diversity, offering a wide range of ways to earn – from completing simple tasks to investing, selling your skills, and more. This blog post will introduce you to the 20 best money-making apps that can help you achieve your financial goals, all while harnessing the convenience and accessibility of your smartphone. So, if you're ready to embark on a journey toward financial prosperity, read on to discover the wealth of options that await in the digital realm of money-making apps.
Money Making Apps: Changing the Financial Landscape
Before we dive into the list of apps, it's essential to understand how money-making apps have transformed the financial landscape. These apps have democratized the concept of earning extra income, making it accessible to anyone with a smartphone and an internet connection. The versatility of these apps is striking, offering a wide range of opportunities for users from various backgrounds and with different skill sets. From completing simple tasks to investing and selling your skills, these apps have redefined what it means to make money in the digital age.
Tips For Selecting Money-Making Apps
As enticing as the prospect of earning extra money through apps may be, it's important to approach the selection process with caution and a discerning eye. Not all money-making apps are created equal, and some may not be as reputable or lucrative as they claim to be. To help you make informed choices, here are some essential tips for selecting money-making apps:
Read Reviews: Before downloading any app, check out user reviews and ratings on app stores. Feedback from other users can give you insights into their experiences, the reliability of the app, and any potential red flags.
Research the Company: Look into the company behind the app. Established and reputable companies are more likely to offer legitimate earning opportunities and provide better support to their users.
Understand the Earning Model: Different apps have different ways of generating income. Some offer paid surveys, cashback on purchases, or referral bonuses, while others might require more significant investments or effort. Ensure you understand the earning model and that it aligns with your goals and preferences.
Check Payment Methods: Review the payment methods offered by the app. Ensure they are convenient and secure, and that you're comfortable with the options available.
Evaluate Security: Your personal and financial information should be secure. Investigate the app's privacy policies and security measures to safeguard your data.
Beware of Scams: Be cautious of apps that promise high returns for little to no effort. If it sounds too good to be true, it probably is. Avoid apps that request sensitive information or money upfront.
Set Realistic Expectations: While money-making apps can provide a supplementary income, they are unlikely to replace your full-time job. Set realistic expectations about the amount of money you can earn and the time you're willing to invest.
Swagbucks
Swagbucks is an all-in-one rewards app that lets you earn money effortlessly by taking surveys, watching videos, shopping online, and even playing games.
Download the Swagbucks app, create an account, and explore the numerous ways to earn SB points. You can then redeem your SB points for gift cards, PayPal cash, and more.
 2. Dosh
Dosh is a cashback app that connects to your credit or debit card and automatically rewards you with cashback when you shop at partner retailers, restaurants, and hotels.
Download the Dosh app, link your cards, and start spending at participating businesses. Dosh automatically tracks your purchases and deposits cashback into your account.
3. Acorns
Acorns is a micro-investing app that rounds up your everyday purchases to the nearest dollar and invests the spare change in a diversified portfolio.
After downloading Acorns, connect your bank account, set your savings goals, and let the app work its magic by investing your spare change.
4. Stash
Stash is an investment app designed for beginners. It allows you to invest in fractional shares of stocks, bonds, and ETFs, making it easy for anyone to start investing.
Download the Stash app, create an account, and choose your investments based on your interests and risk tolerance. The app handles the rest, helping you grow your wealth.
5.Airbnb
Airbnb is a platform that enables you to earn passive income by renting out your spare space, whether it's a room, an entire home, or even a unique vacation property.
List your space on Airbnb, set your price, and welcome guests. Airbnb handles the bookings, payments, and communication, allowing you to earn money with minimal involvement.
6. Uber and Lyft App
Uber and Lyft are synonymous with the ridesharing industry. These apps have revolutionized the way we travel, making it possible for anyone with a car to become a driver and earn money.
Becoming a rideshare driver is simple. You need a qualifying vehicle and a valid driver's license. After passing a background check and vehicle inspection, download the app, set your availability, and start accepting passengers to start making money.
7. DoorDash and Uber Eats App
Food delivery services like DoorDash and Uber Eats have gained immense popularity. These apps connect delivery drivers with hungry customers looking to order from their favorite local restaurants.
To become a delivery driver, you'll need a vehicle, a smartphone, and the respective app. After signing up and completing the onboarding process, you can start accepting delivery requests and earn money for each successful delivery.
8. TaskRabbit App
TaskRabbit is a versatile platform that allows you to offer a wide range of services and tasks. Whether you're handy with home repairs, cleaning, moving, or assembling furniture, TaskRabbit has a job for you.
Create a profile on TaskRabbit and list the services you offer. Clients can browse your profile and request your services. Once you've accepted a task, complete it as agreed and receive payment through the app.
9. Upwork 
Upwork caters to freelancers with specialized skills such as writing, design, development, and more. It offers a structured approach to freelancing, with job listings and the ability to bid on projects.
To start earning on Upwork, create a detailed profile showcasing your skills and expertise. Browse job listings, submit proposals, and negotiate terms with potential clients. Once you've landed a project, work on it remotely and get paid securely through the app.
10. Fiverr 
Fiverr is another popular platform for freelancers offering a wide array of services, from graphic design and content writing to digital marketing and programming. It's the ideal platform to build a freelance business.
Begin by creating a profile, listing your services (referred to as "gigs"), and setting your prices. Clients can browse your gigs, place orders, and pay through the platform. As you build your reputation and receive positive reviews, you can command higher rates for your services.
Survey and Market Research Apps
11. Swagbucks 
Swagbucks is a versatile rewards app that offers a multitude of earning options, including paid surveys. Beyond surveys, you can earn Swagbucks (SB) by shopping online, watching videos, and more.
Download the Swagbucks app, create an account, and complete your profile. Browse available surveys, complete them, and earn SB points that can be redeemed for gift cards or cash via PayPal.
12.Survey Junkie 
Survey Junkie is a dedicated survey platform with a large user base. It connects users with companies seeking consumer opinions, making it easy to find surveys that match your interests and demographics.
After downloading the Survey Junkie app and creating an account, you'll fill out your profile for better survey matching. Participate in surveys and earn points, which can be exchanged for PayPal cash or e-gift cards.
13.Vindale Research 
Vindale Research is a straightforward survey app known for its high payouts. It offers various survey opportunities, as well as product evaluations and paid trial opportunities.
Download the Vindale Research app, sign up, and provide detailed demographic information. Keep an eye on your inbox for survey invitations and other paid opportunities. Your earnings can be withdrawn via PayPal.
14.Pinecone Research App
Pinecone Research is an exclusive survey platform that conducts in-depth market research. It focuses on testing products and gathering valuable insights.
While Pinecone Research is more selective, you can try to apply for membership. Once accepted, you can participate in surveys and product testing. Points earned can be redeemed for various rewards.
15.Google Opinion Rewards 
Google Opinion Rewards is a unique survey app developed by Google. It rewards users for answering quick surveys that help Google improve its products and services.
Download the app, sign in with your Google account, and complete your profile. You'll receive occasional surveys, and the earnings can be used to purchase apps, movies, books, or games from the Google Play Store.
16. Rakuten
Rakuten, previously known as Ebates, is a cashback giant that partners with thousands of online retailers to offer cashback and exclusive discounts. It's a must-have for savvy online shoppers.
Sign up for Rakuten, install the browser extension (if desired), and start your online shopping journey through their portal. You'll earn cashback on eligible purchases, which is paid out via a "Big Fat Check."
17. Honey
Honey is a versatile app that scours the web for the best deals and automatically applies coupon codes at checkout. It also offers cashback opportunities, making it a one-stop shop for saving money online.
Install the Honey browser extension or download the mobile app. As you shop online, Honey will search for and apply available coupons, and you can also earn Honey Gold rewards, which can be redeemed for gift cards.
18. Ibotta
Ibotta is a go-to app for anyone looking to save money on groceries. It provides cashback offers on specific items and is compatible with a wide range of grocery stores.
Download the Ibotta app, explore available offers, and add them to your account. After shopping, snap a picture of your receipt and receive cash back once your purchases are verified. You can also earn bonuses for completing specific tasks.
19. Shopkick
Shopkick is a unique rewards app that offers "kicks" for various activities such as walking into stores, scanning barcodes, and making purchases. These kicks can be converted into gift cards.
Download Shopkick and start earning kicks at participating retailers. You can also accumulate more kicks by scanning products in-store. Redeem your kicks for gift cards to your favorite retailers.
20. Fetch Rewards
Fetch Rewards is a grocery-centric app that rewards you for scanning your grocery receipts. It offers a simple and efficient way to earn points that can be redeemed for gift cards from popular retailers.
Download Fetch Rewards and scan your grocery receipts after shopping. Watch your points accumulate, and explore various gift card options for redemption.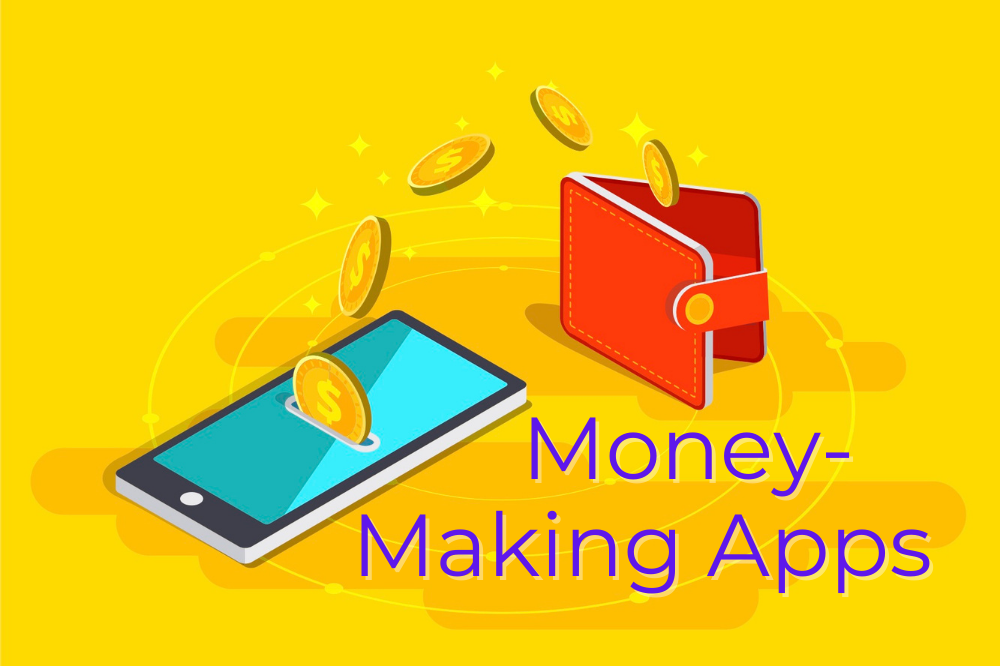 Tips for Maximizing Earnings with Money-Making Apps
Earning money through apps is not just about downloading and using them; it's about maximizing your potential. Here are some tips to help you make the most of your money-making app experience:
Not all money-making apps are created equal. The first step is to choose apps that align with your skills and interests. Whether it's taking surveys, freelancing, or cashback on purchases, there's an app tailored to your preferences.
Diversify Your Income Streams
Instead of relying on a single app, diversify your income streams by using multiple money-making apps. This way, you can balance your earnings across various platforms and reduce the risk of over-dependence on one source.
If you're using freelancing apps like Upwork or Fiverr, ensure your profile is fully optimized. Use a professional photo, write a compelling bio, showcase your skills and experiences, and highlight your strengths.
Maximize Referral Bonuses
Many money-making apps offer referral bonuses when you invite friends or family to join. Promote your referral links on social media, blogs, or through email to expand your referral network and earn more.
Stay Consistent and Persistent
Consistency is key when it comes to earning with money-making apps. Set aside dedicated time each day or week to work on these apps. The more consistent and persistent you are, the greater your chances of increasing your earnings.
Take Advantage of Promotions
Money-making apps often run promotions, special offers, or contests. Keep an eye out for these opportunities and participate to boost your earnings.
Remember that the earning potential with these apps varies, and success largely depends on your efforts, skills, and the time you invest. It's a good idea to explore multiple apps to diversify your income sources.
In conclusion, money-making apps have made earning extra money more accessible and flexible than ever before. With the right apps and a commitment to your financial goals, you can significantly improve your financial situation. Just remember to choose your apps wisely, set realistic expectations, and stay vigilant to avoid potential scams. Happy money-making!
Disclaimer: While these apps offer opportunities to earn extra money, there are no guarantees of income, and results may vary. Always do your due diligence before using any money-making app and exercise caution in sharing personal and financial information.